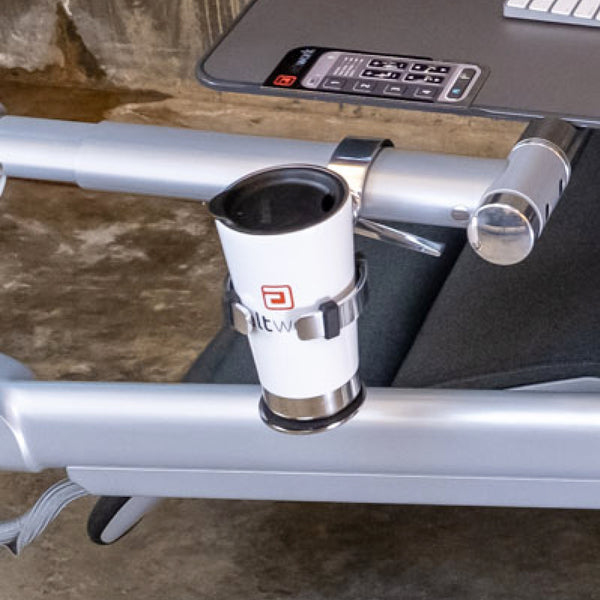 Increase your comfort and convenience with the Altwork Tumbler Holder. Stress-free and hands-free, instant accessibility to your beverage while you're working at your Altwork Station. Features easy to install swivel mount. Chrome stainless steel piece quality construction that blends in with your day to day lifestyle when WFH. 
Dimensions: 8.5"W - 4"L - 5"T
Max Cup Diameter: 3.5" (tapered tumblers) 3" (straight side) 
Weight: 0.8 lbs
Works Perfectly!
I'm certain the tumbler holder has saved me from spilling a drink on myself. It moves gracefully with the chair's various positions, always keeping the cup upright with a smooth action that instills confidence the cup will not ever come close to spilling. Even when moving to the full recline position, the cup stays upright. Today I am using a larger tumbler, and because of the size, I removed the three flexible spacers around the holder. It's a perfect fit. Even my large water bottle fits. If I decide to use a slimmer tumbler, the spacers very easily slip back on. I also like how the tumbler holder can move up and down the arm, so my drink can be very close to my hand, or farther away for people with longer arms, so you can reach to the point you feel comfortable and your cup is there. This is an essential item to go with the chair. It makes having your drink of choice a breeze, no matter what position you need to work. I highly recommend.
Tumbler holder
For the price it should have come with a tumbler
Tumbler Holder
It works great if you don't have a laptop mount.
The laptop mount is right over the tumbled holder and it is very difficult to get the cup out if reclined.
The cup holder is just a little to small to fit a normal size mug, which is a bummer because usually I drink my coffee in a normal mug and not my to-go mug.
Great design and quality
I love it. I thought about buying something else, but this tumbler is just perfect and beautiful. Thanks-