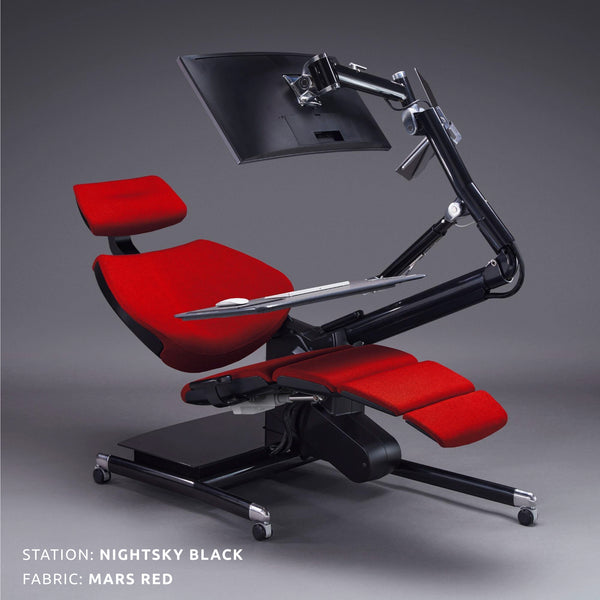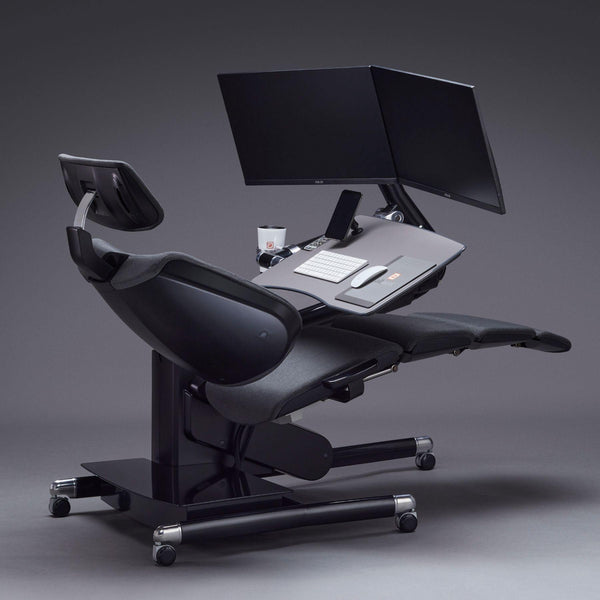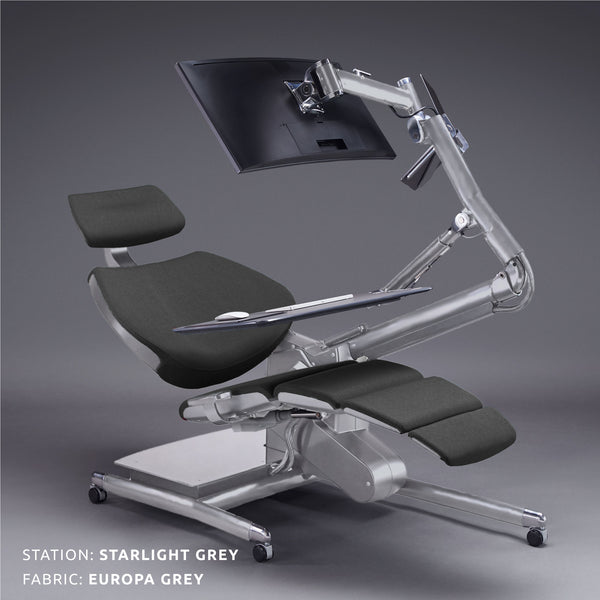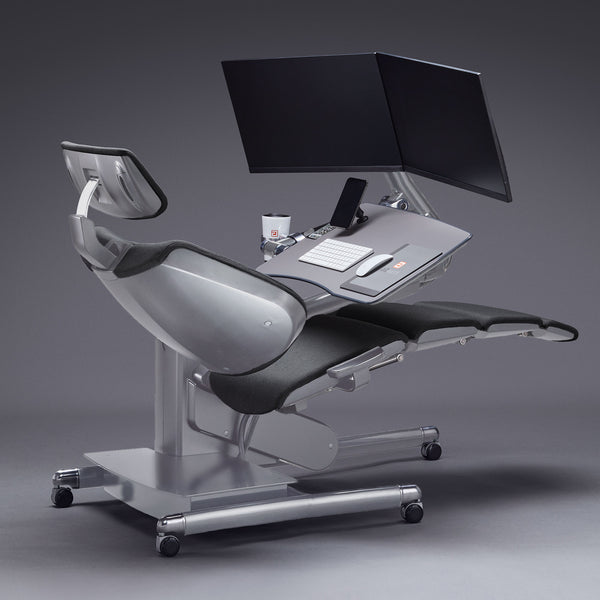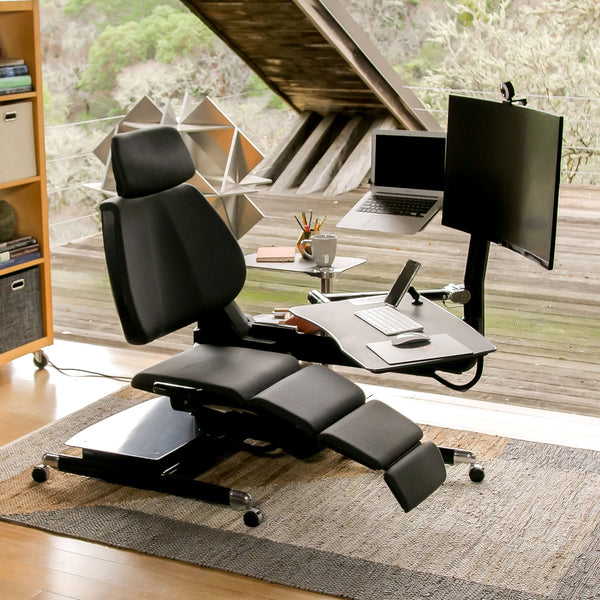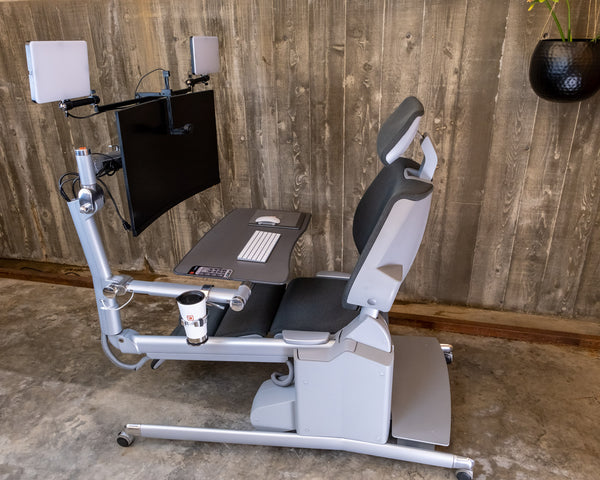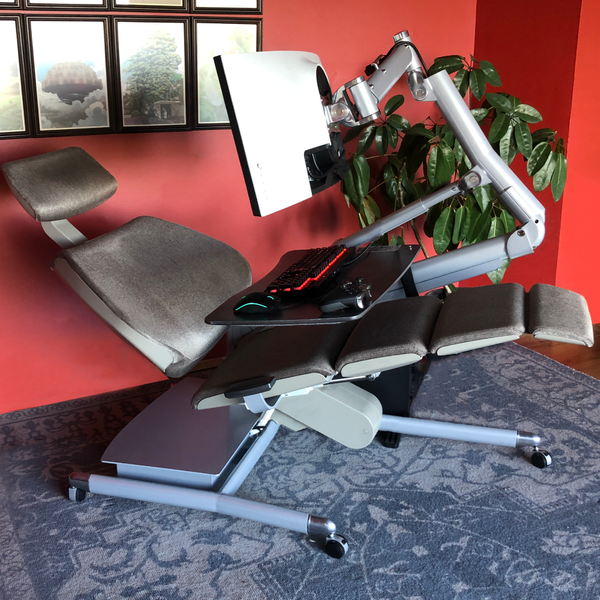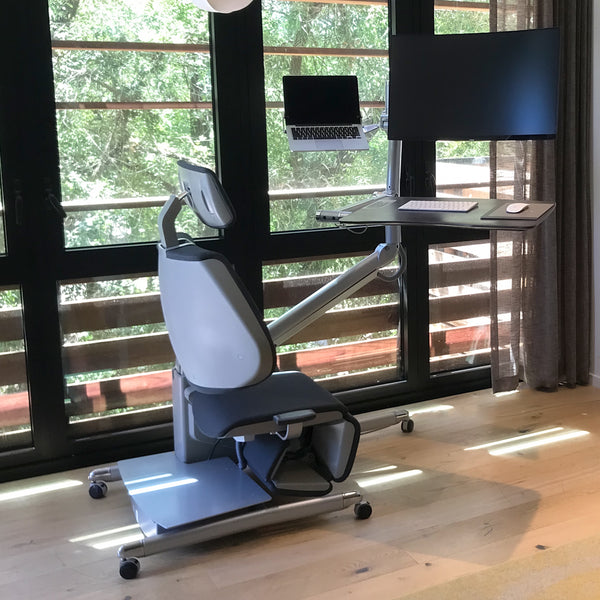 SIGNATURE STATION
During the creation of the Altwork workstation, the human experience was always at the center of the design process. Altwork's focus was to provide a full spectrum of ergonomic requirements to meet the unique needs of each individual. From intuitive keypad controls to the automated smooth glide of the position mechanism, every detail of the Altwork Signature Station is carefully considered and designed for stress and strain relief. The Altwork Signature Station requires less floor space than a standard desk/chair combo and is easily portable between rooms. The station reaches 18 square feet when fully-reclined. Adjust all positions to your liking to optimize relief, comfort, and productivity. 
FEATURES:
Automated positions from Standing, Sitting, Zero Gravity, Full Recline and everything else in between with:
Neck Supporting Headrest 

Lumbar and Elbow Supporting Backrest

Magnetic Desk 

Full Support Leg Rest 

Monitor Mount Position Auto-synced with Recline 

Custom Tool Wrap included
Move effortlessly from standing to full recline, or select any position in-between to meet your activity and needs. Use the keypad to set every aspect of the Signature Station to your personal comfort and preference, including the headrest, desk, monitor, and leg rest. No need for adjustments – when you change positions, your desk and monitor move to accommodate you.
34" wide X 55" long (upright seated, leg rest extended)

Length extends to 72" when fully reclined

Station requires only 18 s.f. of floor space to operate in all positions

Will roll through 32" door opening

Weighs 210 lbs.

Desktop measures 29" x 16"

Minimum seat height 18"

Monitor adjustment range 9" vertical, 10" fore/aft

Desktop adjustment range 13" vertical, 6" fore/aft

Capacity:
Optimal for users up to 300lbs with a height between 5'1" and 6'6"
May work for users outside this range - please contact us
What's Included:
Headrest

Rear panels

Rear storage tray

Advanced monitor arm (monitor is not included)

Mouse pad (mouse and keyboard are not included)

Desk

Leg rest

Frame with casters

Palm rest

Mac or PC developer magnet set to affix keyboard, mouse, tablets to the desk

Electronics cabinet to protect electrical components under the seat and serve as a platform for laptop

User manual

Altwork offers financing through Affirm. Simply select Affirm as a payment option at checkout. You will be asked to provide basic information and consent for a credit check. Affirm will then provide a loan offer with terms that include the interest rate, repayment schedule, and total amount due. You can then decide to accept or decline the offer from Affirm.
We selected Affirm as our financing partner because they provide complete transparency. There are no hidden fees, and the total cost of the loan, including interest, is disclosed upfront. Overall, Affirm provides a convenient and flexible financing option for Altworker that need the option to not pay the full amount upfront.
Altwork offers a flat rate shipping price of $599 within the Contiguous U.S. for orders of our workstations. For locations outside the U.S., shipping will be calculated at check-out. Customers outside the U.S. are responsible for all customs fees and import taxes including VAT.
We accept returns for a full refund excluding outbound shipping and third-party professional assembly within 30-days of product delivery. Please see our full refund policy for details.
Great work station
Excellent work station, helpful staff. Worth the money, my 4 year battle against back pain has gotten %90 better since buying this thing.
Life Saver
Altwork made it possible for me to get back to work! I know it will do the same for me after my back surgery b as well. Jeff was amazing!!!!
Exactly what I needed for my back/nerve pain
I have been using the desk for about 2 months now and it has helped me tremendously. I alternate between partially and fully reclined throughout the day to take pressure off my spine and its very comfortable. I found the seat to be a bit hard for my liking so I added an additional cushion for additional comfort. It also took a bit to get the right setup with cabling and laptop but I ended up buying a PC wall mount and have the chair next to it.
Artwork Signature
I am loving this new chair/ work center. The online directions and the way it was packaged made it easy to put together. The one thing I wish I could do is push the monitor mount further away from me that it currently allows.